IT SERVICES IN SYDNEY
Axact IT Services provides IT services and solutions to businesses throughout Sydney. With almost a decade of experience under our belt, we excel in enhancing corporate growth and cultivating a positive image. Our passion for leading-edge business technologies drives us. Our team of professional are dedicated to elevating your brand's integrity.
We acknowledge the fact that in today's economy, IT is an integral part f any company's operations. Businesses frequently need a reliable partner to fully realize their growth potential and maintain a competitive edge in the industry. We strive to match the most suitable technology for your business and then train your employees to use it, in addition to giving you continual IT support.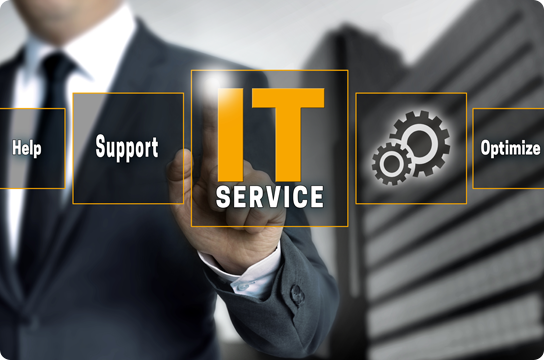 Information Technology is the Brain of any organization. At Axact IT Services, we minimize the requirement for in-house day-to-day IT needs, allowing our customers to Maximize operations, decrease costs, reduce risk, free up resources and focus on their core business. In order to meet the challenges associated with rapidly evolving IT needs, our Managed Services team ensures proactively managed technology at a predictable cost.
Managed Network Infrastructure
We manage both the hardware and software systems within your company's IT infrastructure, including computers, servers, security platforms, routers, and more, to enable a smooth flow of business processes. We ensure enhanced network security and a high level of network availability in a cost-effective manner.
Managed Server & Desktop Environment
A desktop environment is an implementation of the desktop metaphor made of a bundle of programs running on top of a computer operating system that shares a common graphical user They are accessed through a common graphical user.
We offer managed server services from Consolidated Communications that provide best practice and highly compliant IT services to the customer's physical or virtual server environment to ensure it remains stable and reliable and enhances their business performance. The managed environment ensured 24 x 7 Advanced Monitoring & Alerting and managed Advanced Anti-Virus support.
On-Site Technical Support
On-site support refers to technical assistance that is offered at your business premises. On-site technical support improves efficiency, reduces costs, and resolves IT issues quickly by offering consistent support by a professional.
Managed Virtual Infrastructure
A managed virtual infrastructure runs on top of a hypervisor in an NFV environment. It deals with the allocation of resources in the NFV infrastructure (NFVI). This includes computer resources like processors, storage, and network resources. A managed virtual infrastructure helps in reducing capital and operating costs, minimizing or eliminating downtime, and increasing IT productivity, efficiency, agility, and responsiveness.
Managed Mobile Devices
Mobile Device Management is enhancing corporate data security by monitoring, managing, and securing mobile devices such as laptops, smartphones, and tablets used in enterprises. At Axact IT services, we ensure remote management of users and devices, data backup, cost savings, regulatory compliance, controlled device updates, and application control to improve and prosper in the corporate world.
Complete IT Infrastructure Monitoring
At Axact IT services, we ensure you strengthen your grip on your IT infrastructure and let you measure the exact performance of your system.
Email Migration to Latest in-house system or in cloud
At Axact IT services, we offer email migration to the latest in-house or cloud system. There are various advantages in the cloud migration process, such as scalability, powerful computing capabilities, flexibility, no issues in server maintenance, storage capacity, cost-as-go, and performance. Integrating your business objectives with the best IT services yields the best outcomes.
We, Axact IT Services, have expert professionals who work to proving you with the best IT solutions. They are the best in the industry and give you smart solutions for your branding needs. Our team members are skilled with the best advisory and technical abilities. Time-efficient and cost-effectiveness are major goals of Axact IT Services. Our mission is to provide our clients with high-quality services at an economical price with no compromise on quality.