Managed Backup for Office 365
Microsoft 365 encompasses subscription plans that allow use of the Microsoft Office software suite over the life of the subscription, as well as cloud-based software as a service product for business environments, such as hosted Exchange Server, Skype for Business Server, and SharePoint among others. All Microsoft 365 plans include automatic updates to their respective software at no additional charge, as opposed to conventional licenses for these programs where new versions require purchase of a new license every time. get your data secured with Microsoft 365 plan from Axact IT services.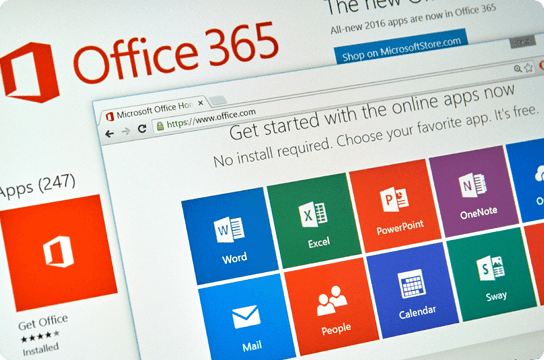 USE PREMIUM MICROSOFT 365 APPS IN ALL YOUR DEVICES
Microsoft 365 plan allows you to enjoy premium version of all the apps in various devices.

Ms. Word
Draft your emails, documents with premium version. With features that help strengthen your spelling, grammar, and style, let Microsoft Editor be your intelligent writing assistant.

Ms. Excel
Manage all your financial data at one place to reach your financial goals.

Ms. PowerPoint
Best layouts and automatically generated templates will help you in designing and performing in a better way.

One Drive
Huge data storage and easy accessibility is a bigger advantage of Microsoft 365 plan.
BENEFITS OF MICROSOFT 365 PLAN
Huge Cloud Storage
Microsoft 365 allows the data storage for up to 1TB. Huge cloud storage for all your essential soft data at one place
Premium Versions
Microsoft 365 comes with premium features to get advanced design, writing, and speaking suggestions. Access templates, extra photos, icons, and fonts in each app, and work offline any time. With the writing assistant,
Hassle-free Subscription Sharing
With the Microsoft 365, you can share your subscription with up to five members and each member can enjoy the benefits of premium Microsoft 365 apps across all their gadgets, 1 TB of OneDrive cloud storage,
Full Technical Support
With the Microsoft 365 Plan, you get the full technical support over the chat or call with the experts.
Advanced Security
Microsoft 365 plan uses various detection and recovery techniques to safe your data. It also protects from scams and viruses.
Email Hosting
With Microsoft 365, you can use official business email addresses that make biggest impression before you say a word. Create professional addresses like yourname@, sales@ or support@ — that all route to your primary inbox.