Cloud Services in Sydney
We create opportunities for innovation through our cloud services. Cloud services are the availability of resources, especially data storage and computing power without direct active management by the user. We facilitate users with access to computing services like analytics or networking using internet. We offer cost effective solutions to your corporate needs. We organize Cloud Services and our team ensures your technology is proactively managed, at a predictable cost, to meet the challenges of the rapidly evolving IT needs.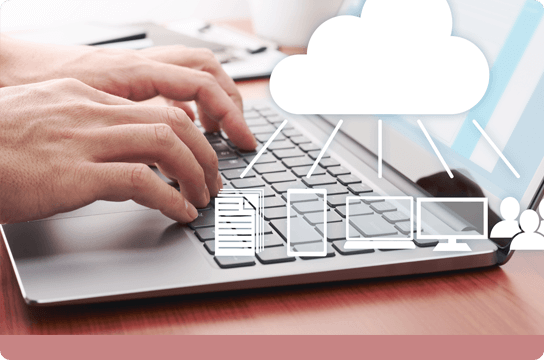 How our cloud services benefit your business?
Cloud computing offers your business many benefits. It allows you to set up what is essentially a virtual office to give you the flexibility of connecting to your business anywhere, any time. With the growing number of web-enabled devices used in today's business environment (e.g. smartphones, tablets), access to your data is even easier. With Axact IT Services, it became even much easier to fuel your company's growth in lesser time and competitive prices. There are many benefits to moving your business to the cloud. Let's discuss few of them:
Lower cost
Moving to cloud computing may reduce the cost of managing and maintaining your IT systems. At Axact IT services, we offer matchless services in economic costs.
Improved ROI
One way, in which cloud services help to increase your ROI is through decreasing a number of your costs, including capital and operational costs. With cloud computing, you no longer have to purchase servers for use in-house, resulting in lower data Centre costs that help to boost your return on investment.
Modernize and manage your applications
Online availability and ease of accessibility makes it easier to manage and maintain your applications. Your business reaches to greater heights by using cloud computing facility.
Easy accessibility
Cloud computing allows you to access the server data anywhere via an internet connection. Cloud Computing is a trend in many business areas across the globe. It bears chances for enhancing accessibility to many information resources which were locked either in proprietary or inaccessible desktop applications as the access to information in the Cloud is done mostly by web interfaces.
New ways of working and creativity:
Virtual world is entirely different from physical accessibility. By using cloud services, you will be empowered to bring innovative changes in your company's operations.
Access to automatic Updates
We, at Axact IT Services, ensures automatic up gradation of applications by using various service models. We also take care of regular software and security updates on behalf of the users.
Reduced IT costs
Moving to cloud services can reduce the cost of managing and maintaining your IT systems. Rather than purchasing expensive systems and equipment for your business, you can reduce your costs by using the resources of our cloud computing services. You can reduce your operating costs by saving:
the cost of system upgrades, new hardware and software
the wages for expert staff
your energy consumption costs
the cost of delays in any various circumstances
Flexibility of work practices
The biggest advantage of transforming into cloud-based system is flexible time. Without bounding yourself into time limit, you can easily access the desired resources in one go.
With this fast-changing era, nobody can deny the vitality of IT innovation. Cloud services made it possible to fuel business growth in lesser time. Cloud computing can be broken up into three main services: Software-as-a-Service (SaaS), Infrastructure-as-a-Service (IaaS) and Platform-as-a-Service (PaaS). These three services make up what Rackspace calls the Cloud Computing Stack, with SaaS on top, PaaS in the middle, and IaaS on the bottom.
We accelerate your business growth by continuously improving and modernizing your applications through best cloud services.