WEB DEVELOPMENT IS ALL ABOUT CREATIVITY, QUALITY & EXPERIENCE!
As the world is evolving from a global village to a digital town, more and more business are making their presence online. Especially after the COVID experience, digital presence is growing fastly. With this, digital marketing is almost becoming saturated.
This means that for you to expand new business ventures or dominate the target market for your already established business, the very first business ingredient for you to have would be a website.
Let's face it, no matter how big and productive your brand is, you cannot survive in today's business market without having any representation online. With a business website, you will get much-needed business representation online. However, for it to work completely, you need an impressive web layout. This is because; people are attracted to the graphics and images more than the plain lines of text.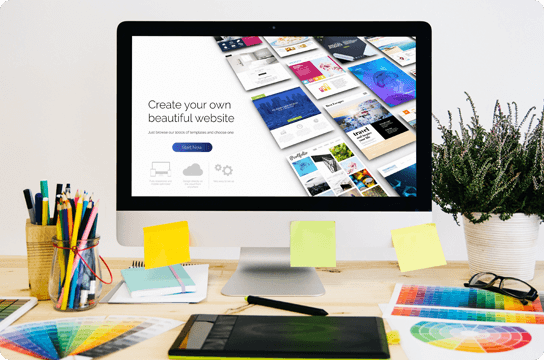 We at Axact IT Solutions are there to offer you an easy solution, as we are providers of the finest web and graphic designs. Our team of designers and developers understand your business requirements to convert those into a foolproof design, thus helping you attract more clients and automatically increasing your lead generation statistics. Our designers have the capability to work for all business sizes, small, medium, or large.
CREATIVITY COMBINED WITH THE LATEST TRENDS
Our expert web developers combine their creative ideas with the latest trends to produce amazing and penetrating designs that the users like. Being skillful and experienced, they have all the necessary design knowledge and proficiency in the latest design tools to design box ideas, making them stand out from all the other designs. In addition to the talented designers of our company, we also offer the most cost-friendly packages, making it easy for new to seasoned business entrepreneurs to avail of our high-quality designing services.
WHAT DO OUR GRAPHIC DESIGNERS COVER?
Visual appearance leaves a mark on your heart. Keeping this goal in mind, our specialists are dedicated to providing flawless outcomes for our clients. We believe retaining the client is more important than winning a new one. We Maintain a respectful relationship with our clients and cooperate with them as much as possible.
Our team has talented and skilled web designers that provide our clients with multiple web designing services;
Icon illustration
UI/UX landing
Email templates
Landing pages
Mobile friendly interface
We have got what it takes to deliver a perfect and attractive web layout according to the demands and themes of a particular business niche. Our web designers are highly skilled in utilizing a variety of technologies such as HTML, CSS3, JQuery, HTML5, and JavaScript. Our team of designers works hard to achieve the perfection that you require, thus making your website one of the highest lead-generation mediums for the business.
HOW CAN OUR WEBSITE DEVELOPMENT SERVICES BENEFIT YOUR BUSINESS?
In today's digital world, every brand and organization requires a website. It facilitates the customers and increases the reach of a business and its customers, providing them with all the necessary resources and information at their fingertips
There are trillions of websites on the internet. We, the Axact IT services, are the leading web design company, serving all over Sydney and across NSW as well. Our mission is to craft a website for your business that stands out with its design and makes it easily feasible among other users.
We create modern websites that support your brand and show it in the best light. Our visually striking designs are sure to grab attention, while the cleverly engineered functionality ensures a pleasant user experience, keeping your customers satisfied. Our web development service benefits are:
Static websites
Static websites contain webpages with fixed content, which is why they display in the same way as stored in the user's browser. A professional web design company always styles the website properly and appropriately so that it effectively helps in business conversation. A well-designed website allows customers to connect with your business in a professional manner. Ultimately it is driving success for your website and business.
At Axact IT Services, our goal is to deliver top-notch static websites tailored to your specific needs and requirements. Our team is ever ready to assist you in this regard. We design static websites to facilitate you in terms of lesser load time, lower costs, more security, and faster speed.
Dynamic Websites
Suppose you need a website design that perfectly suits your business and uniquely conveys your motive. Or a design that adequately compels potential customers to approach your site. Then you need the service of professionals for this highly intensive purpose that is none other than—Axact IT services. Our crew of expert and certified website designers has expertise in custom web design.
We know how to design extraordinary websites in a purely creative and professional manner. Axact IT service creates unique content for your dynamic website according to your demands and requirements because we know that a dynamic and innovative website is feasible and modular—providing more room for customization.
Ecommerce Websites
An E-commerce website is the most common medium for buying and selling stuff. An attractive and interactive outlook can elevate your brand. Amid several web designers, Axact IT services tailor the best design, creates a spectacular layout, boost your business and leave you completely amazed with our creative skills.
We are the leading, experienced and professional website design company in Sydney and our vast networking area allows us to serve many customers out there and earn satisfaction. We excel at web designing skills, that's why handling multiple types of projects is not a challenge for our team.
We have lived many website design projects, including law, construction, online shop, retail, media & communications, and trade associations.